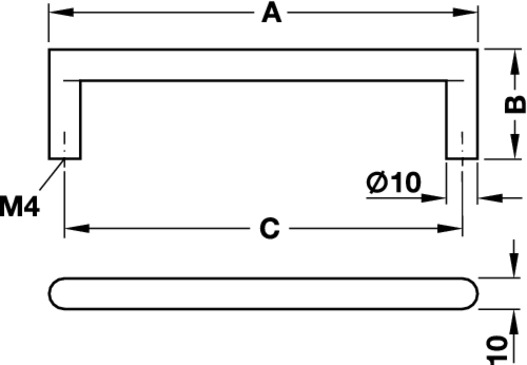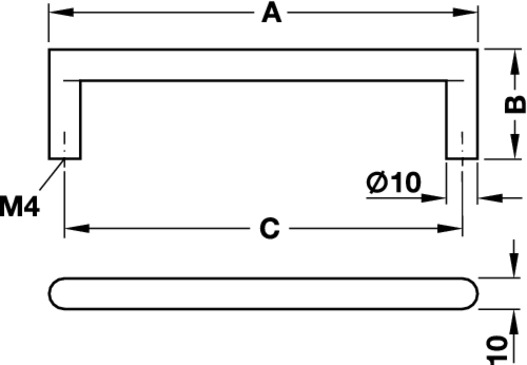 Stainless Steel Furniture Handle, Matt Brushed
Description
Additional information
Reviews (0)
Store Policies
Inquiries
Description
ALASEPT ANTIBACTERIAL SURFACE FOR HANDLES
WHY ALASEPT?
Alasept is an invisible, high-quality coating for stainless steel fittings. It is particularly suitable for furniture handles in public buildings, doctors' surgeries, hospitals and everywhere where perfectly hygienic finishes are important.
WHERE IS ALASEPT USED?
Life is vibrant wherever people congregate.
The same handles are used repeatedly, and this is exactly where many bacteria, viruses and other pathogens can be found. Particularly in location such as hospitals, doctors' surgeries, care homes and in public institutions such as kindergartens or schools, the contact frequencies are extremely high.
Hafele's innovation for hygiene-sensitive areas can be used as a preventive measure: Alasept, the antibacterial and antiviral highly-effective surface with which stainless steel fittings such as handles can be coated – and therefore provides with effective protection from germs.
THE ADVANTAGES OF ALASEPT
Hygienically active 24/7

High-quality

Design-neutral

Long lasting
Alasept provides protection where people are entering and leaving.
Provides lasting protection from bacteria and other pathogens on handles and thus minimises the risk of infection.
Alasept – robust and scratch-resistant.
The antibacterial effectiveness of the Alasept coating is not reduced by impacts or wear.
Alasept – reduces germs
The number of bacteria is reduced by more than 99.9% and the number or viruses is reduced by more than 99.9999% in just 1 hour.
Alasept – for architectural hardware and furniture fittings
Provides continuous hygiene assistance.
Alasept – adds to your reputation
Antibacterially coated handles bear witness to your high awareness level of hygiene.
Alasept – modern appearance and design-neutral
Hafele is the only manufacture that offers the advantage of the damaging effect of copper ions on germs without affecting the appearance of the stainless steel.
Alasept – easier and quicker to clean
Using ordinary, acid-free cleaning agents.
Alasept – Works 24/7.
The antibacterial effect of Alasept is always there, providing reliable protection before and after surface disinfection.
Additional information
| | |
| --- | --- |
| Finish | Matt brushed |
| Size | 115.25.103 |
| Price | Single Price, Package Price |
General Inquiries
There are no inquiries yet.