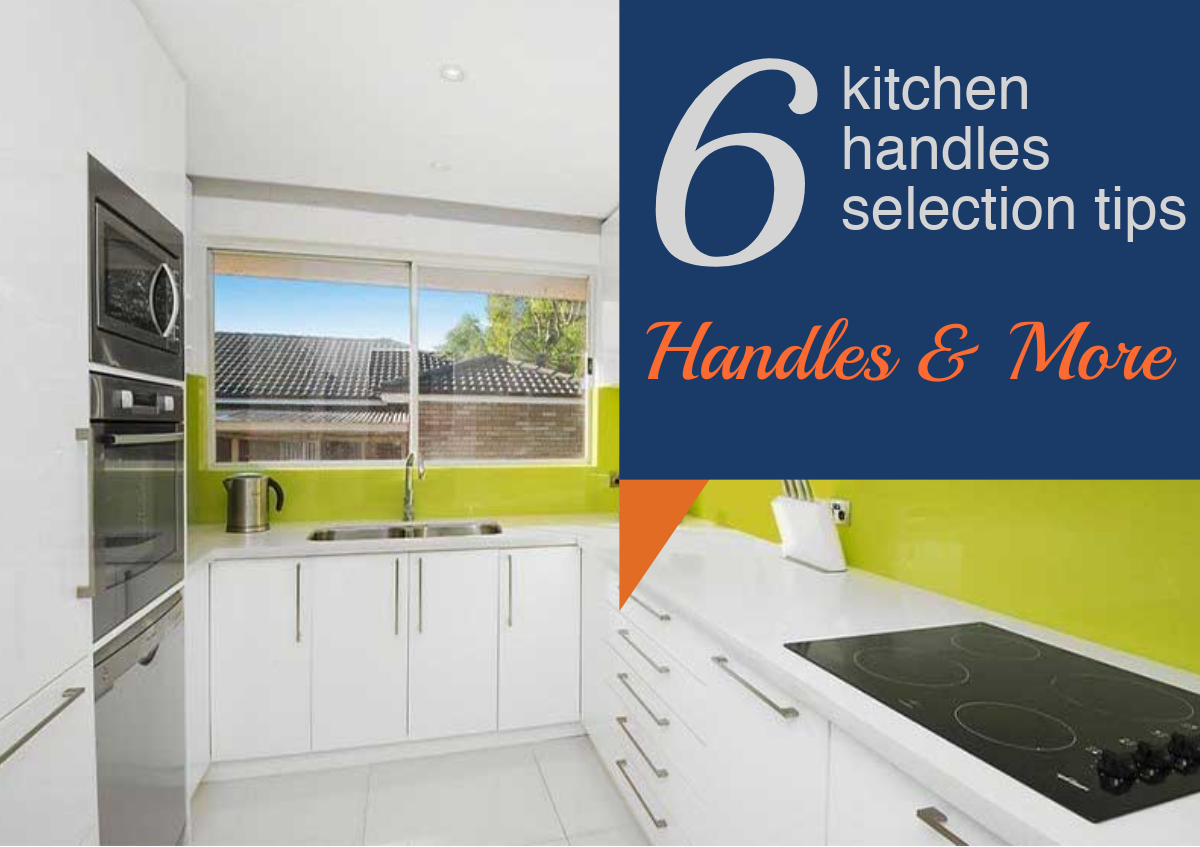 Here are the six top tips to ponder when selecting your kitchen handles:
1. Size
Kitchen cabinet handles are available in various lengths. To get a unified look, you'll need to select handles of the same length. It will not only give you a consistent look and feel to your kitchen space but also make it less strenuous.
Nonetheless, you can install cabinet and drawer handles with different lengths depending on your preference and working style. Ideally, you need to choose cabinet handles and drawer handles for your kitchen that is not too long or too short but long enough to easily operate them without fuss.
However, if you're not sure, take the assistance of an expert kitchen designer who can recommend you with the right size of kitchen handles for your kitchen cabinets and drawers.
2. Positioning
Instruct your kitchen installer or cabinet maker not to fit the handles on cabinets and drawers until all the cabinetry is fully fitted. This will provide you with an opportunity to hold handle against cabinet door or drawer and try out different positions and heights. The thumb rule is to fit handles vertically on doors and horizontally on pull-out drawers.
Moreover, ensure that the new handles are fitted in such a way that it doesn't bang one another when you open your cabinets. If you're fitting handles to a new kitchen, your kitchen designer should take care of this.
3. Quality & Practicality
It is imperative to choose well-designed and quality handles. You'll want your kitchen handles to be comfortable as you'll be using them often to open and close. Test the kitchen handles you intend to purchase. Take the handle that catch your attention and hold it in your hand against your cabinet door and drawer – feel how it feels in your hand, is the grip good and is it easy to manoeuvre etc. In your family, if there are elders who may have arthritis in their fingers or members with bigger hands then you also need to ensure the handles have the right grip for all of them. Moreover, know the material of the handles that you're buying and with what warranties they come.
4. Handle-Free Kitchen
If you're aiming for a super modern and sleek kitchen, consider handle-less kitchen cabinetry. This kitchen should have a recessed (dug in) lip at the top of every drawer and door front which makes a channel that permits you to open them without handles.
5. Style
The handles you pick can have a huge impact on the overall feel and look of your kitchen. So if you want to accomplish a specific style for your kitchen then it is imperative to think prudently and make the right selection for kitchen handles. The major kitchen styles are modern, conventional and transitional or intermediary.
6. The Finish
Deciding the finish will be effortless once you have finalised the style of your kitchen handles. When selecting the finish for your kitchen handles, take into account other attributes of your kitchen design as well. For example: golden handles look classy on white cabinets; likewise black handles look awesome on light grey cabinets and so on.
Final Words
Keep the above points in mind while shopping for the fitting handles for your kitchen cabinetry, drawers and doors. The choicest range of handles all of the top brands is available only at Handles & More at the best prices in Australia. Buy kitchen handles that flawlessly complements your kitchen decor!