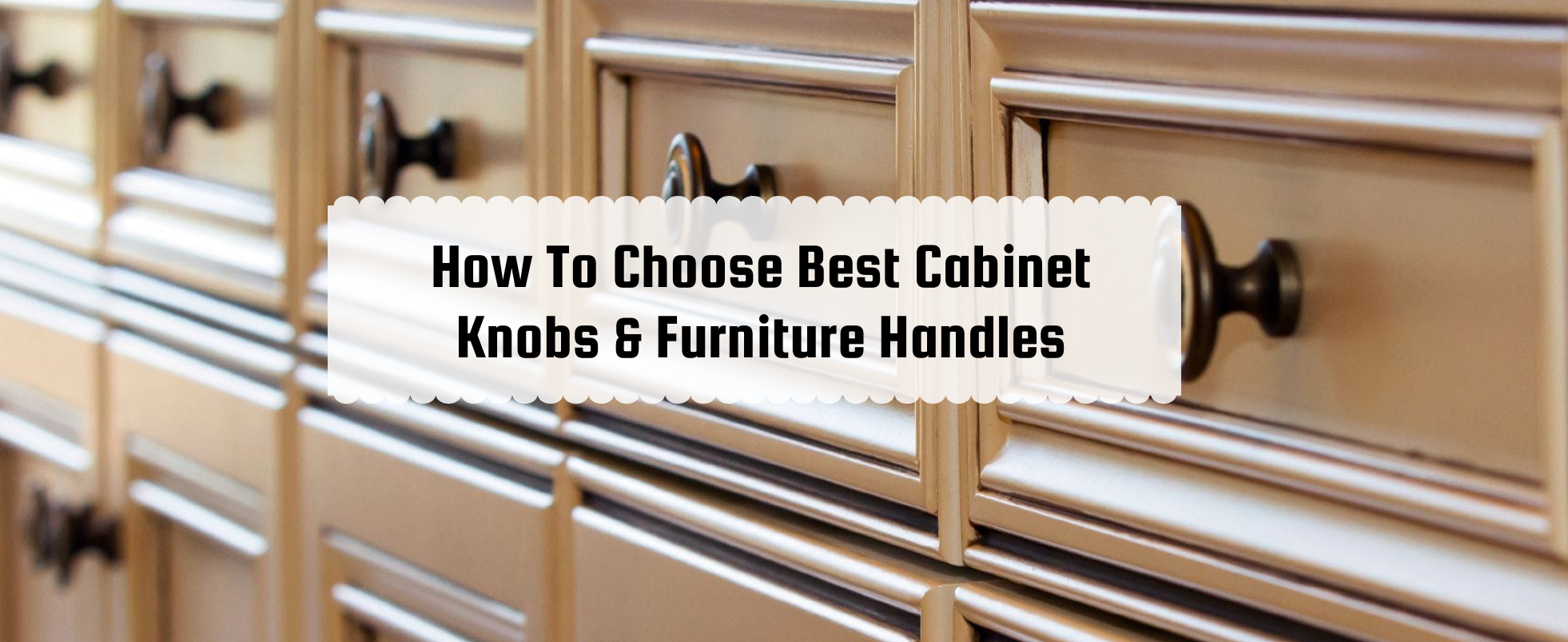 Normally, kitchen cabinets are sold without hardware, so homeowners have to select the cabinet knobs, pull handles and furniture handles that flawlessly fuse with the furniture pieces. The vast array of styles and finishes has made it extremely difficult to choose the matching handles and knobs that blend impeccably with kitchen cabinets and rest of the furniture pieces. Therefore, we have come up with this blog that will precisely assist you to find the best cabinet knobs, door knobs and handles for your furniture pieces.
Harmonising Colours
First, take a note of existing colours of your kitchen cabinets, as the colours of your cabinets is equally significant as the style when selecting the right hardware. Almost any finish will gel with painted or white cabinets; however, some shades of brown don't quite work well with.
Stay with Your Existing Theme
Remember, just like your kitchen cabinets, all of your selected kitchen hardware speaks to your theme. Explore what type of the hardware will work well with the theme of your kitchen e.g. sleek, tubular pulls can balance the gentle look in smart and stylish kitchens. Conventional cabinets are inclined to have more features and gain from the simplistic, smooth knobs.
Be Mindful of Your Kitchen Fixtures & Appliances
Consider the finish of your light fixtures, sinks, taps and kitchen appliances apart from the finish of knobs and pull handles. Ensure never to overdo mixing of metal finishes though it is in style right now in kitchen design. Remember, if colours don't gel in the right way, it could mess up the uniformity of your kitchen and completely wipe out the aesthetic feel of your new kitchen cabinets.

Unified Finishes 
Right from brass to brushed nickel, there is no dearth in kitchen hardware range. It's better to keep unified finishes. At times, you'll have to purchase kitchen hardware products from different retailers because you may not get everything in one place. However, try to purchase hardware that gels with the remaining hardware pieces, appliances and the overall look of your kitchen. More importantly, maintain the same colours and finishes for all of your kitchen hardware as far as possible.
Never Ever Compromise Quality
Sometimes, you may get too involved in choosing the right style and finish that you may forget about quality. This should not happen and your first priority should be to buy quality handles for furniture pieces that are easy to grip, robust, stable and durable. When you purchase quality hardware, it will serve you for a long time.
Determine What Type of Knobs or Pull Handles Needs to Be Used
Well, fitting a knob is common even on traditional and country kitchens. Moreover, knobs make a better option than pulls on many cabinets. So how to know when you should install knobs and when to fit pull handles. When kitchen cabinets are sophisticated or exquisitely detailed, it is better to opt for knob over pull handles. A knob is smaller and uncomplicated and keeps cabinet's design unscathed.
Think Differently
Typical kitchen hardware is available in brushed nickel, bronze and metal finishes; however, it's fine to go with something that's out-of-the-box. Mirrored or glass hardware can work equally well and can add an inspired touch to your kitchen interiors.
These tips will surely help you to pick the best kitchen cabinet handles & knobs for your home.